This post is also available in: Deutsch (German)
Vacation in a castle – who doesn't dream of it? We made this dream come true in the enchanting Chateau d'Urspelt in Luxembourg, a renovated castle from the 17th century. Did it meet our expectations? A resounding yes!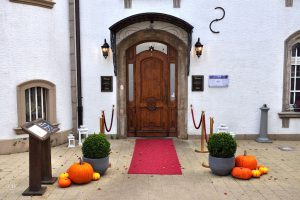 The listed castle is so beautiful that numerous weddings take place here in spring and summer – at least one every weekend. Therefore, it could be fully booked more often in this half of the year and also be a bit more turbulent. We were there in the fall and it was wonderful. There was no wedding and yet everything was beautifully decorated in an autumnal and festive way. During the Advent season it should be a real dream to spend your vacation there. I can really imagine that and we will definitely take a trip to the Christmas Chateau d'Urspelt in the next few years!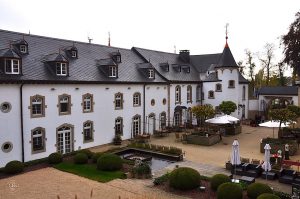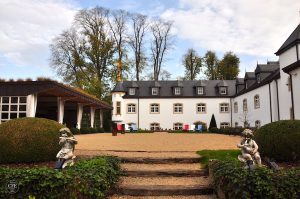 Chateau d'Urspelt – the location
The chateau is located in the north of Luxembourg, only a few kilometers from the fairytale town of Clervaux. As you can probably imagine, it is located in Urspelt. There is a small church here and a cluster of houses and farms. Otherwise it is surrounded by beautiful scenery. It takes about an hour to drive to Luxembourg City and about 45 minutes to Luxembourg's Little Switzerland to the Mullerthal Trail.
So you have to drive a little longer to do something, but you have really great accommodation. We also enjoyed coming back to the wonderful, quietly located castle in the evening after an eventful day.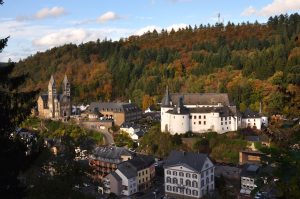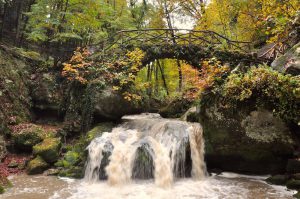 Chateau d'Urspelt – the hotel
The first thing you will be received in the chateau is this nice little friend. He will be happy to provide you with a lot of information – which of course does not mean that there is no reception with friendly staff!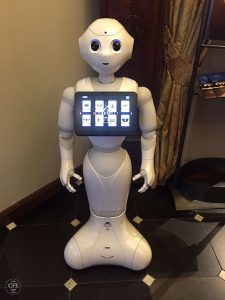 The chateau also has a very good restaurant, a small fireplace room, a bar in the dungeon and a small chapel.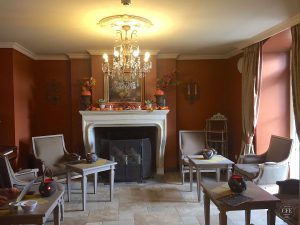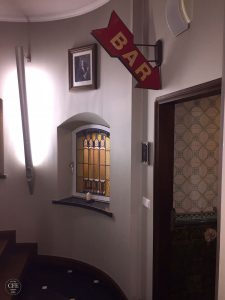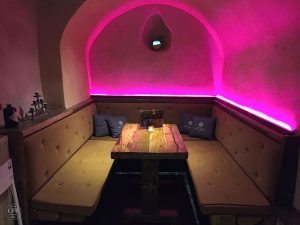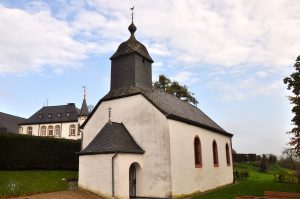 In the inner courtyard you can have a delicious drink and in summer you can relax on the sun deck with a small swimming area.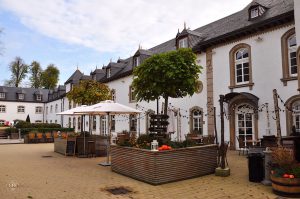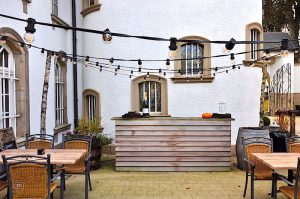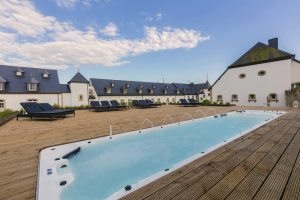 A small wellness zone with a relaxation area, as well as a sauna, solarium and massage bath or hammam and jacuzzi, can be booked for private use at an additional cost.
The castle also offers several conference rooms, so that a business stay can also be a great event.
Parking spaces and three free electric charging stations are available directly at the castle. There is an entrance to the hotel from the car park that takes you straight to the elevator. So you can check in relaxed and then pick up your luggage very comfortably.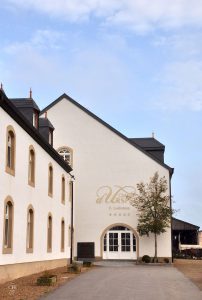 Chateau d'Urspelt – the rooms
The four star hotel has 56 rooms and suites in four different categories: the castle rooms and superior rooms for up to three people each, as well as the executive suite for four people and the very luxurious grand ducal suite for up to three people.
Since the executive suite was already fully booked, we opted for two adjacent castle rooms. The rooms were cozy and nicely decorated, so that we really felt comfortable. The bathrooms didn't have a window, but the ventilation was so good that it wasn't a problem.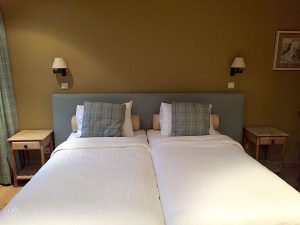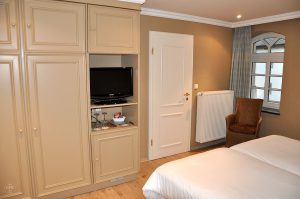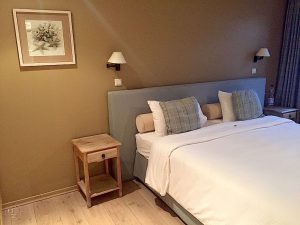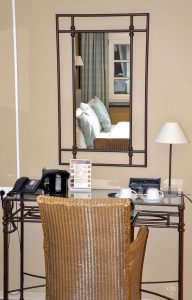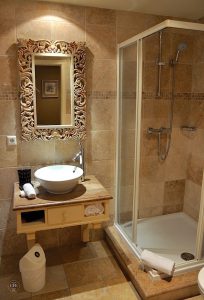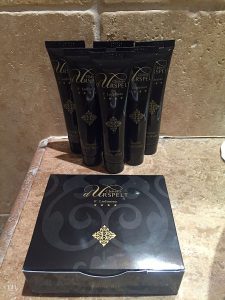 Chateau d'Urspelt – breakfast
Breakfast is served in a lovely setting and we looked forward to it every morning. In addition to various types of coffee, there are numerous types of tea (loose tea), sparkling wine and three different juices. You could also squeeze fresh orange juice yourself.
I particularly liked the fact that there were some dishes, such as yogurt or cream cheese, from the region. The different types of bread were really delicious and the offer was very diverse – even my beloved chia seeds were there.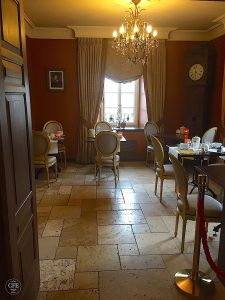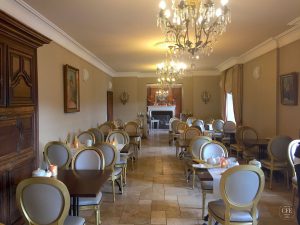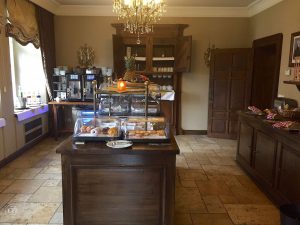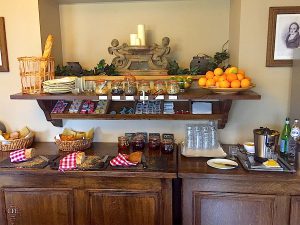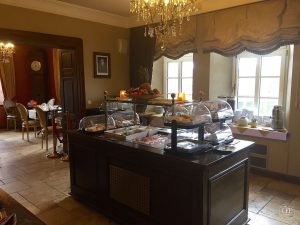 Chateau d'Urspelt – the restaurant
The restaurant is very exquisite and offers a small but fine menu. You can reserve a table before arrival or directly after arrival. If you are thinking of eating in the hotel restaurant, you can get a copy of the menu at reception. For children there is a daily menu that is not on the menu, but is gladly asked in the kitchen. When we visited it was Tagliatelle Bolognese – according to one of my sons, the tastiest Bolognese he has ever eaten.
As is very often the case in Luxembourg, the price of the meal depends on the number of courses and tends to be in the upper range. The children's meal cost 15.00 euros during our stay.
We ate the venison shoulder with pepper sauce grandma's style and were just as enthusiastic as our children!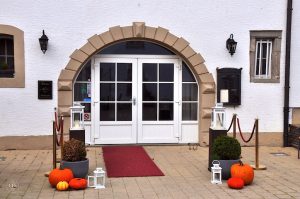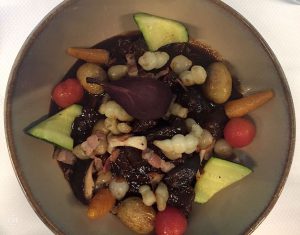 Chateau d'Urspelt – my conclusion
The castle hotel is a wonderful holiday accommodation for a vacation in Luxembourg. Although it is in the north of the country, you can start excursions throughout the Grand Duchy from here. The journey time is sometimes a little longer, but the beautiful, quiet hotel, where you can really feel at home, compensates for this.
I also liked the fact that you get an email a few days before arrival in which you can state all your wishes. For example, whether you want a duvet or two in the double bed, whether you want flowers for the room, whether it should be romantically decorated, whether a table should be reserved in the restaurant, etc.
According to one employee, the construction of a 'real' wellness area is being planned. As soon as the plan has been implemented, I will of course report on it here!
Finally, I can only recommend you to spend a holiday in beautiful Luxembourg and if you liked the report, of course, in the wonderful Chateau d'Urspelt!
All the best,
your Diana
As always, this was an unsponsored post about a wonderful vacation rental. If you like the chateau so much that you want to book a room directly, you can do so right here (affiliate link).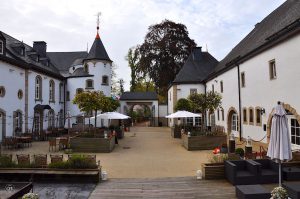 … and here are some more tips for an unforgettable holiday in Luxembourg: